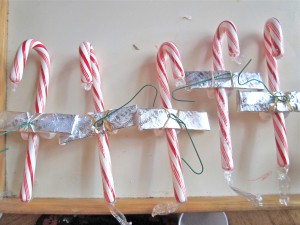 Today's post is an updated version of one published in 2012. Hope this is helpful in planning your very best holiday season!
_____
A couple of years ago, I realized that I didn't want to spend the month of December racing through malls, jumping from party to party, and being busy-busy-busy with Christmas "stuff."
I wanted peace, tranquility, and time with my Dad, who was just about to turn 80.
When I was a little girl, Dad made candy cane airplanes with us every year.
We'd put the rubber band through the lifesaver wheels and wrap it carefully around the stick of gum, which served as the wings.  Then we'd savor a few lifesavers as we hung the airplanes on the Christmas tree.
I've made these little ornaments with my children every year, but they'd never made them with their grandpa–the master airplane maker.
So I decided that if I wanted Christmas to be simple, peaceful, and full of things that matter most, I needed to sit down and plan it.  By following the steps I'm about to outline below, our Christmas that year and last year have become the best ones I've ever had.
In case you'd like to join me this year, I've put together a special Christmas-planning template based on our Mind Organization for Moms program.  We're going to use the five steps of David Allen's Natural Planning Model (from the book Getting Things Done) and Christmas is going to be phenomenal.
Access Your Own Holiday Planning Template by Clicking Here!
Access a companion audio download with April and Saren here!
Step One: Defining Purpose and Principles
For this part, I sat down with my children and gave them the following prompts:
What's the purpose of this season?
What do you want this Christmas to feel like for our family?
Please finish this sentence: "I would be happy with any Christmas celebration, as long as…"
     Then I took good notes (their responses were really sweet):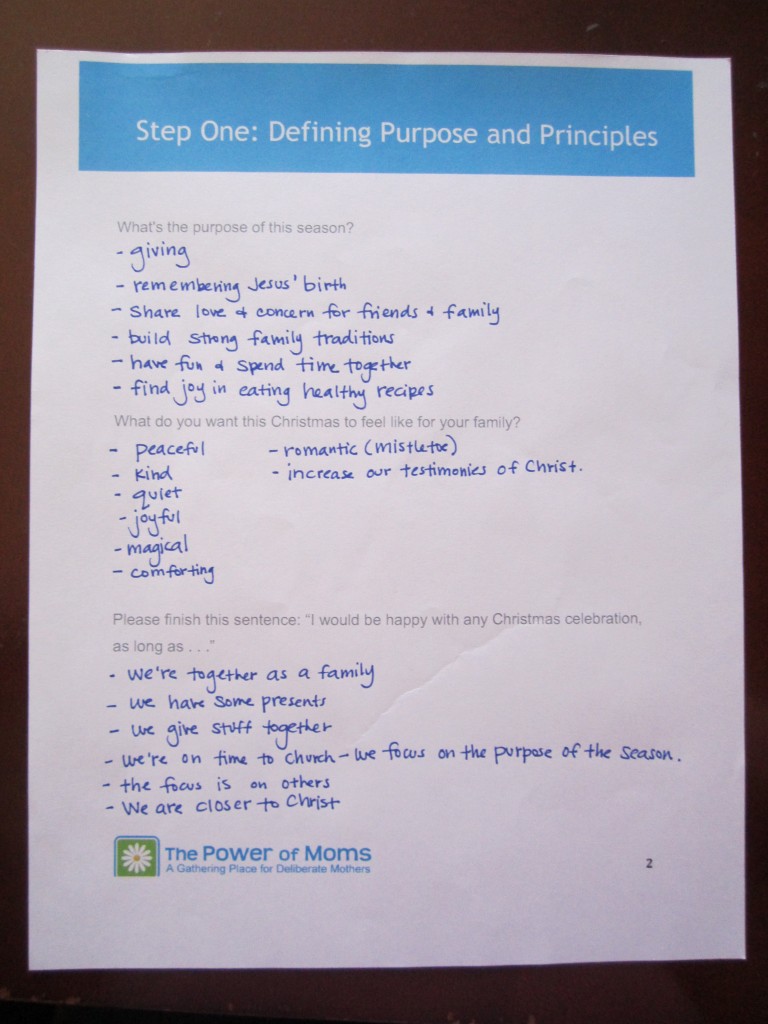 Step Two: Outcome Visioning
We did this part on a separate day with an informal breakfast discussion, which basically took our ideas from Step One to a deeper level.  My daughter Alia was the scribe:
We agreed that we wanted to be well-rested, reasonably-paced, and organized throughout the holiday, and we would continue exercising and eating well so we could be in better health by the time the tree came down. We also agreed to be happy with our Christmas gifts–even if we didn't get the "big" stuff that all the kids at school were talking about.  (I promise . . . these were all my kids' ideas.  But I may have helped a bit.) We planned to purchase and wrap our presents by the first week of December, shop together for a beautiful tree that would be trimmed with homemade decorations, and focus the majority of our activities and expenses on making others happy. We planned to spend time listening to uplifting music, reading from the Bible, singing carols around the piano, and having spiritual conversations at the end of the day while we sat by our fireplace. Most of our days didn't go as planned, and there were plenty of nights I just tucked everyone in bed early so I could have a break, but that's okay.  We aimed high. And we made some precious memories.
On to Step Three: Brainstorming
We looked carefully at our notes from the first two steps and then gathered as a family one evening to brainstorm around seven areas of focus.  (This is where we got more specific.)
Then my daughter added an eighth cluster in the bottom right-hand corner called, "Unhealthy food."  (She needed a place to include the gingerbread house.)
Seeing our clusters on one page helped us to realize that the "all-consuming" holiday planning really is finite.  We can create boundaries around our time, we can control our expenditures, and we can make sure our energy is spent on what's most important. See? We even made it to Grandpa's:
Step Four: Organizing
This part initially feels hard.  How am I going to take all these brainstorms and make them manageable? Simply take a deep breath and jump in. I first wrote out all the components and sub-components on little slips of paper.
Then I moved them around and organized them according to priority and sequence. Here are my three sub-clusters: things to do this week, things to do before December 1st, and things to do in early December.
I noticed that four of these slips contained two-minute tasks, so I quickly accomplished those and then moved onto the next step.
Step Five: Identifying Next Actions
As I was getting all my ideas out onto Post-it Notes, I realized that some things I wrote down were projects, while others were tasks. I created a list of Current Christmas Projects,
and then I created two Next Actions Lists: one for immediate Next Actions–things to accomplish within the next week, and one for important Next Actions–things to accomplish as soon as it's convenient. (These lists are based on all those Post-It notes from Step 4.  Next Actions are single, specific tasks that will move projects or tasks toward completion.)
Then I simply worked off these lists–reviewing them (and my project list from above) when I planned each week–also adding calendar triggers where necessary. There's no one "right" way to celebrate Christmas, and many of the best-laid plans will be replaced with spontaneous events, but when we focus on how the holiday feels, we can't help but create holiday moments our family will remember forever.
QUESTION:What helps you to focus on the most important things during Christmas?  How do you plan or organize the most essential things?
CHALLENGE: However the process will work best for you, sit down for a few minutes to really think about your Christmas and make a plan for this year to be the best one so far.
Access Your Own Holiday Planning Template by Clicking Here!
Access your complementary audio download with April and Saren here!
Related Links:
Saren's great blog post about Christmas gift planning.
How to Plan Your Very Best Christmas: Kelli Connell's fantastic adaptation of this same template/planning process in her family.
Mind Organization for Moms: If you've found this planning template to be helpful in making your Christmas efforts more effective and enjoyable, you might also benefit from the tools and framework of this life-changing program.
Power of Moms Amazon Store: Looking for great deliberate mother-approved gifts? We've gathered them here!