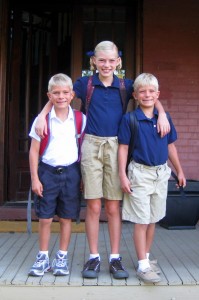 Are you ready to get back into school routines?
Last night, we had a family meeting about our family routines for this new school year. We talked about what needs to happen at what time in the morning so that we can get to school on time. We talked about what needs to happen each afternoon and evening to get homework done, take care of dinner and clean-up, and get to bed on time.
Then I had my oldest child, my 12-year-old son (who seemed to be the culprit for a lot of late-to-school moments last year but who's an excellent typist and who was flattered by the responsibility) type up a list of everything that needs to happen at what time each morning with his little brothers and sister helping him remember everything.
Here's what the kids came up with (they found the pictures and everything – please excuse the quality of the printing – our printer wasn't working well!):
We posted the morning and bedtime routine list on the back of everyone's bedroom door and posted the afternoon and evening routines in the kitchen and dining room.
We also reviewed this video about the after-school routine that worked very well for us last year.
Come Monday, when school starts, we'll see what happens!
* My sisters, mom and I made a podcast about morning routines as part of our Deliberate Mothering Podcast Series. Please enjoy listening to the podcast by clicking on the link below. Then add your ideas for successful morning routines to the conversation in the comment section below. I can sure use a few more ideas myself!
PODCAST: Morning Routines
QUESTION: What tips and tricks do you have to offer about routines?
CHALLENGE: Take a look at the routines you've got to make them more effective or create brand new routines that will help your family function better!
Originally published August 24, 2012.