* Note: While Power of Families a website for all parents regardless of their religious interests, we feel it appropriate to share some Christian-centered ideas as many families around the world prepare for Easter Week.
There are so many fun, simple, beautiful things we can do with our families to celebrate the real meaning of Easter.
To help you develop your own Christ-centered Easter traditions, here are some details on what works for my family.
First, there are some ideas for activites and decorating leading up to Easter then I've put together day-by-day Easter Week activities to help you make the week leading up to Easter and Easter itself really wonderful in a very easy way (included are scripture references, links to videos, and ideas for simple kid-friendly activities).
I wish you the very best as you develop Easter traditions and activities that will help your children draw closer to Jesus, bring the light of Christ into your home, and experience the awe and joy of the Resurrection.
LENT:
I came to love the idea of Lent when I was in college and my Catholic friends introduced me to the idea. Lent has now become a tradition in our family. A few weeks in advance of Easter (Lent is officially about 6 weeks long, from Ash Wednesday to Easter Eve, but we're not that precise), we each decide on something that we'll give up for Lent. The kids usually pick something pretty simple (like a specific favorite candy). I've given up sugar for several years but this year I gave up eating after 8pm (makes me feel so much better!). We talk about how giving something up is a great way to work on will-power and be more healthy but that most importantly, when we give up something for Lent, every time we're tempted to do whatever we gave up for Lent, we have a chance to think about Christ's sacrifice for us as we make our own little sacrifice. I like that.
DECORATIONS:
I generally keep the decorating super simple – a pretty table cloth, a bowl of pretty dyed eggs, some flowers, and voila – the house is all decorated for Easter. I love how eggs and flowers remind us of new life – what Easter is all about.
Here are a couple super-simple ideas I found that I think I'll try this year:
The kids and I are always collecting "signs of spring" – the first sprigs of green we find. This would be a lovely way to showcase what we find as we celebrate new life at Easter: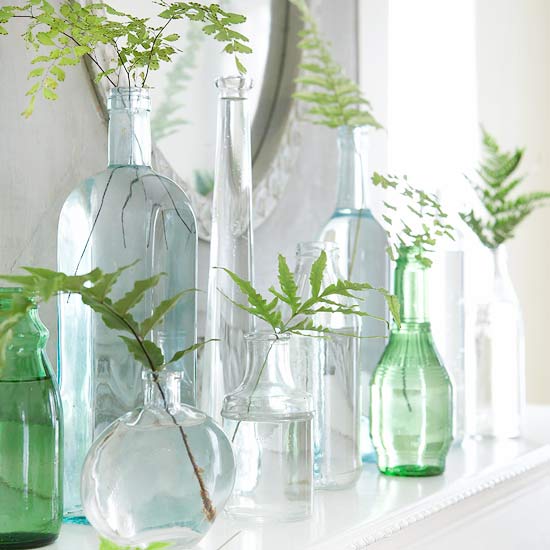 And I found some really nice decorations on Etsy that capture the real meaning of Easter – check them out HERE.
EASTER WEEK DAILY TRADITIONS:
We have special (but very simple) activities we do each day of the week leading up to Easter. Thanks to great ideas from books and friends and some trial and error, our Easter Week has evolved over the years into what I've laid out below.
Most of the ideas below take 5-10 minutes and require little or no supplies.
SUNDAY:
On Palm Sunday, we read Matthew 21: 1-11 together and look at this picture: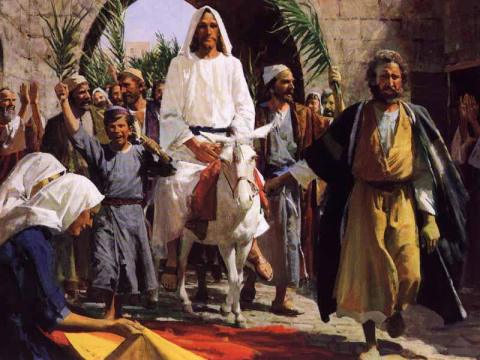 Then we we act it out (using weeds or branches for palms and dad for a donkey…). The kids yell "Hosana!" and we talk about how wonderful it must have been for Jesus to see so many people embracing his message of love.
MONDAY:
On Monday we read from the scriptures about Jesus cleansing the temple (Matthew 21:12-13). Sometimes we re-enact Jesus cleansing the temple (with a focus on how we can stand up for what is right and be firm and stern without being mean). Some years we've gone to visit a holy place like a temple or cathedral to feel the peace there and imagine how it must have felt to Jesus to see people showing so little reverence for the temple. We talk about how important it is to keep sacred things sacred and talk about what the word "sacred" means.
On Monday we've also talked about Jesus's cursing of the unfruitful fig tree (Matthew 21:19-22) and how important it is that we use what we've been given to bless the lives of others while also talking about the importance of faith and how faith can bring miracles to pass.
TUESDAY:
On Tuesday we dye eggs (we always do the first one red by leaving it in the pink then the orange dye for a long time – I lived in Bulgaria for a while and that was the tradition there – the red represents death and the egg represents new life – great symbol of death and life coming together). We talk about how eggs represent new life and read about the new life Christ offered in the scriptures. Here are a couple favorite scriptures to read (and memorize together if you like) as a lead-up to the egg-dying:
John 3:16 – "For God so loved the world, that he gave his only begotten Son, that whosoever believeth in him should not perish, but have everlasting life"
John 10:10 – "I am come that they might have life, and that they might have it more abundantly."
We all have fun coming up with creative new ideas for decorating eggs. We've tried using Sharpie pens to make beautiful patterns. We've tried "tie-dying" eggs by wrapping them in tissue dipped in different colored dye. And when we're done creating beautiful eggs, we shine them up by rubbing them with a little olive oil and put them in a nice bowl as a decoration.
When the kids were little, it used to be a crazy ordeal trying to dye eggs without any big fat permanent messes but it's actually been very enjoyable the past few years!
There are so many fun ideas for dying eggs. Here are a few of our egg creations and some from my sisters Shawni's family (they are experts – or eggsperts!)
WEDNESDAY:
On Wednesday we talk about Christ's parables and miracles (many in Matthew 25 – the parables of the 10 Virgins, the talents, and the sheep and the goats). We have some good kids' books about the parables and we also like to watch the video "Finding Faith in Christ" (beautifully depicts several of Christ's miracles – click HERE to watch it – it's about 10 minutes long).
We also love watching clips from the series about Christ called The Chosen. Here are some short clips depicting miracles:
These video clips showing scripture-based depictions of Christ's miracles, sermons, parables are also good. Click on the image or the link below to see all available clips.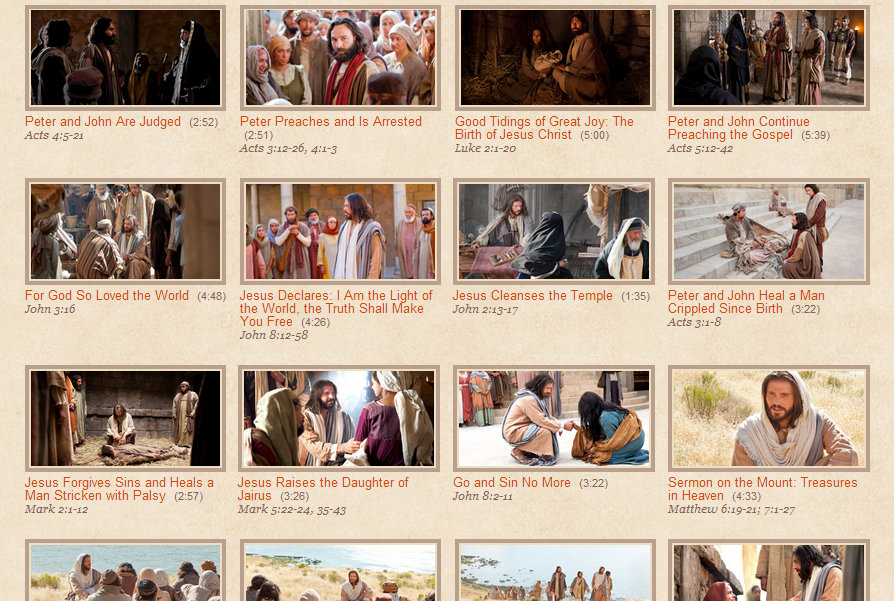 THURSDAY:
On Thursday we do a simple Passover-style supper with lentil stew and pita bread (you could get into a real Passover dinner – tons of great ideas if you google it – or keep it super simple with cheese and pita bread…). While we eat, we talk about the Last Supper and the Garden of Gethsemane as we read about these events in the scriptures:
Last Supper – Matthew 26:17-35
Gethsemane – Matthew 26:36-46
Arrest and Trial – Matthew 26: 47-68
We also talk about how Christ suffered as he took the sins of the world upon him in the Garden of Gethsemane and discuss the Atonement a bit. The short film, "The Lamb of God" offers a good depiction of what happened after the Last Supper. Click HERE to watch.
FRIDAY:
On Friday we talk about Christ's death, read parts of Matthew 27, and look at this picture:
We've also found some videos that really help. Here is one that works well:
This 14-minute film called "He is Risen" shows the last few days of Christ's life from the perspective of John, one of Christ's apostles and offers a powerful but tasteful account of the Garden of Gethsemane, the Crucifixion, and the Resurrection. While it shows quite a bit of blood and agony, I thought it worked very well for my children but view it first yourself to see if you think it'll work well for your children. (Click the image below to watch.)
We talk about why people call this day "Good Friday" – what Jesus did for us was so very very good although it was so very very sad.
These topics can be tricky with younger children – this is hard, heavy stuff. But I've found that my young kids (starting maybe around 4 years old) have been able to understand things and feel empathy and love way beyond their years as we've watched videos, read scriptures and talked things through.
SATURDAY:
Saturday (the day Jesus was resting in Heaven) is for the Easter Bunny and egg hunts and all that fun stuff. We have often had a neighborhood egg hunt on Saturday morning (or sometimes, it's worked better do do it earlier in the week.
Here's one of our earliest neighborhood Easter egg hunts:
The kids and I used to make simple fliers and take them around to all the neighbors but now we do a Facebook event and send emails to those who don't do Facebook. We ask that every child bring 10 plastic eggs filled with candy or stickers or other prizes. Usually someone does a few "money" eggs with quarters and one time even a $20 bill (that was a big hit!).
When everyone arrives for the hunt, some of the other parents and I keep the kids engaged in some games inside ("duck, duck, goose" becomes "egg, egg, chick") while some parents and teenagers hide the eggs in a clearly defined area (usually 2-3 front yards in a row). Then we send out the little kids first to find the easily-found eggs followed by the medium kids then the big kids.
At the end, we give a prize to the child who found the most eggs then we usually divide up all the eggs somewhat evenly and hang out with the neighbors eating candy for a while.
For the past couple of years, we've taken things up a notch and we do a special egg hunt for the older teens and adults involving eggs hidden in really challenging places and each egg has a number inside it that corresponds to a prize that the finder of that egg gets at the close of the hunt. Everyone from the neighborhood donates prizes that can include everything from gift cards to cash to random "white elephant" type gifts.
Here are some photos from our neighborhood egg hunts in the past couple years – the tradition has become quite a staple of our neighborhood!
SUNDAY:
On Easter morning, as soon as we wake up (while we're still in our pj's), we watch some video clips about the resurrection.
I really like THIS VIDEO that puts together everything we've been talking about all week. It starts with Palm Sunday and goes through the Resurrection – all in about 8 minutes.
I also LOVE this 3-minute clip called "Because of Him" that works extra well for older children and adults. It can spark some great discussions about the various roles Jesus played and plays and what gifts He has given us.
Then the kids head into the living room where they find some new Easter clothes (just spring church clothes they need anyway – often just a new shirt or tie for the boys and Eliza usually gets a new dress) and their Easter Baskets waiting for them (see photo below for details – the baskets contain very simple gifts – a few candies, often a book and some other stuff they can use to keep themselves happily and meaningfully occupied at church on Sundays when what the speakers are saying is going over their heads).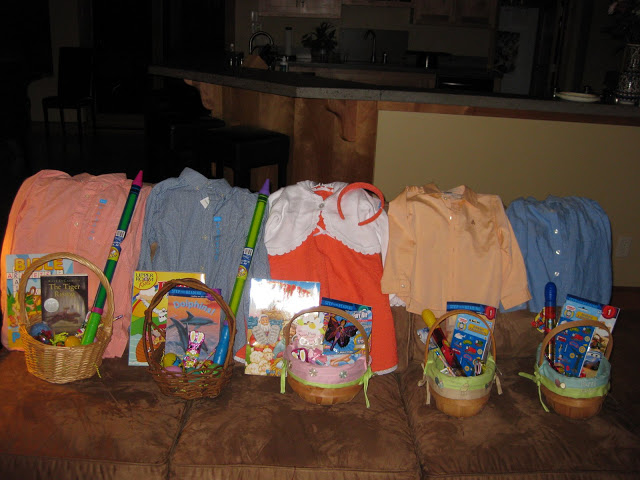 I like doing new clothes for Easter because it helps make church extra special on Easter, symbolizes a new beginning, and it was really fun dressing my kids up in cute coordinated outfits back when they were happy to do that.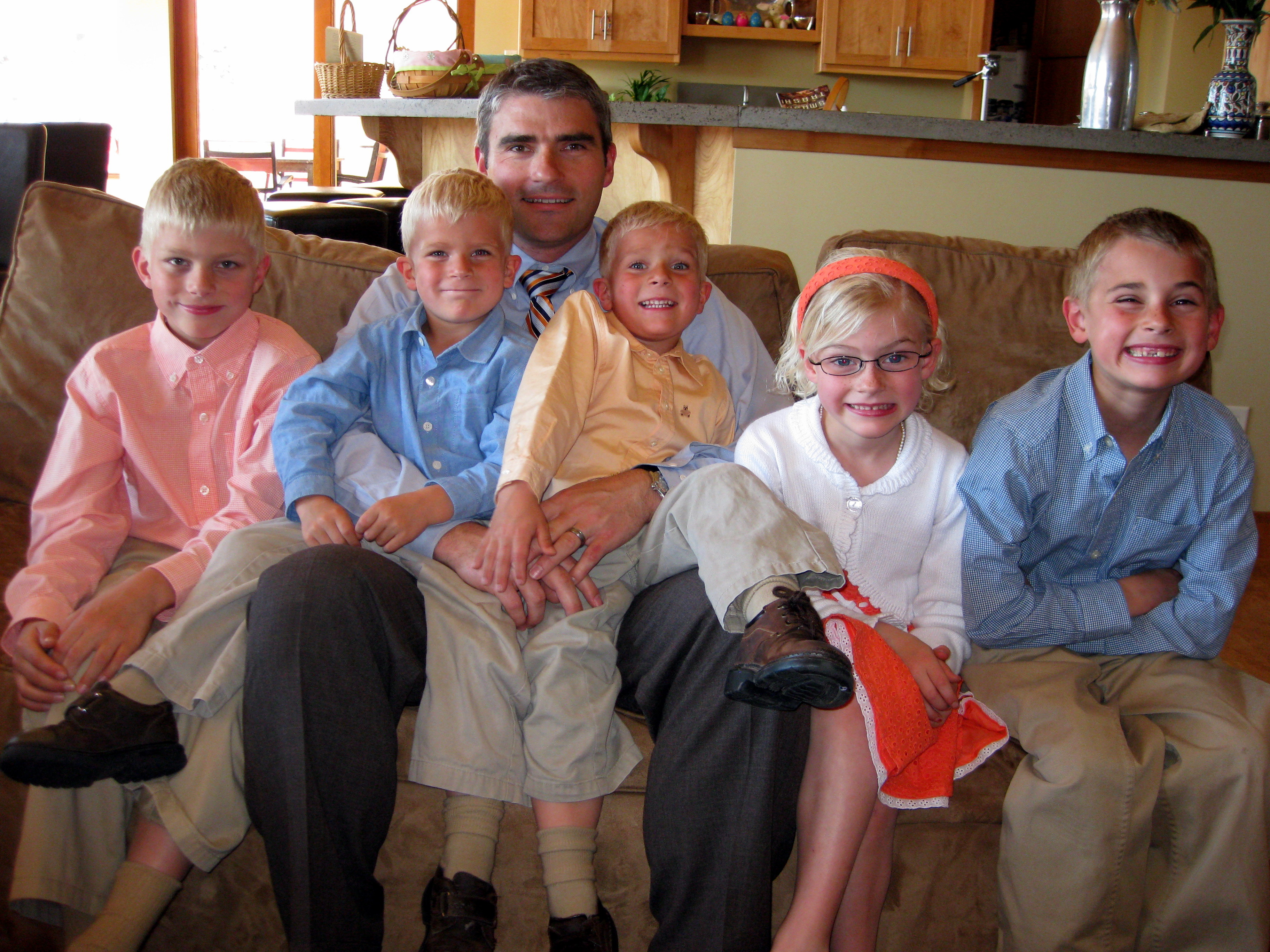 The kids have grown up but we still do new Easter ties for the boys and an Easter dress for me and Eliza (sometimes color coordinated, sometimes not…)
After Easter baskets, we eat a special breakfast (Eggs Benedict is our tradition) and get ready for church (or if we have early church, we do a nice Easter brunch after church).
After church, we do a special Easter Egg hunt for plastic eggs filled with symbols of Christ's last week on earth (a piece of bread for the Last Supper, a rock for the tomb, a little cross made of sticks, some olive leaves for the Garden of Gethsemane, some nails, some thorns…). When our kids got older, it's been great to have them read scriptures on a little slip of paper inside each egg. Click on the photo below for full instructions and printables from "The Complete Guide to Imperfect Homemaking."
Our traditions are still evolving – and probably always will be. I'm always adding in new ideas people share with me and I've taken out a lot of ideas that proved to be more trouble than they're worth.
The main thing is that through our efforts over the years, our children have come to understand the real meaning of Easter. I'm so grateful for the chance I have, through simple activities like those outlined above, to bear my testimony of Jesus daily to my children during Easter Week.
I hope my kids will always think of Easter as a magical and meaningful holiday – a great combination of fun and thought and treats and tokens of the first Easter.
QUESTION: What are your favorite Easter traditions?
CHALLENGE: Add a new and meaningful Easter traditions this year. It can take about 5 minutes!